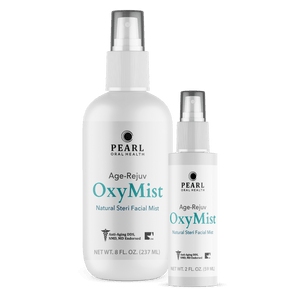 OxyMist contains 100ppm (parts per million) of hypochlorous acid or HOCI — a completely safe, non-toxic, yet extremely effective concentration of the same, natural compound the human immune system creates!
NOTE: LARGE BOTTLE ONLY; MINI BOTTLE NOT INCLUDED
Contains 100pm of HOCl, a natural immune booster that is produced by your own white blood cells.
Safe to use around ears, eyes, mouth, and nose.
Helps to minimize the appearance of fine lines and wrinkles.
Beautifies skin.
Ideal for dry skin. Soothes minor skin irritations and scarring.
Helps heal tooth extraction sites.
IT WORKS FAST AND HAS BEEN CLINICALLY TESTED.
Created by Dr. Joe Doctora and Dr. Thom Lokensgard, both licensed Dentists and board-certified in Anti-Aging Medicine.  Dr. Thom is also a Doctor of Naturopathic Medicine (NMD).  Dr. Joe is also an MD and a board-certified Oral & Maxillofacial Surgeon.
DIRECTIONS: Close your eyes and mist generously on face, neck, and hands for healthy skin. Repeat often, as needed, because you can't overuse OxyMist!
USE: Spray on after showering, bathing, or cleansing face for softer skin naturally. Mist before applying makeup and to set your makeup. OxyMist is wonderful to quickly cleanse skin after exercising. Spray it on your hands when soap and water is not available. Toss it in your purse or travel bag for on-the-go cleansing and hydration all day long!
INGREDIENTS: Electrolyzed oxygenated water, sodium chloride, hypochlorous acid.
FREE OF: Alcohol, parabens, fragrance, phthalates, sulfates, gluten, and dye.
The information on this website is for educational purposes only; it is not medical advice. The statements and products referred to throughout this site have not been evaluated by the FDA. They are not intended to diagnose, treat, cure or prevent any disease or condition. If you have a health condition or concern, consult a physician or your alternative health care provider. Always consult a medical doctor before modifying your diet, using any new product, drug, supplement, or doing new exercises.