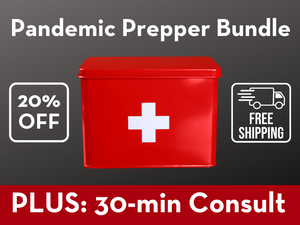 Includes 6 immune-boosting supplements [Lipsomal Vitamin C, Vitamin D3/K2, Zinc, Bio-Quercetin, Ultimate Enzymes, and OxyMist] and a 
30-MINUTE CONSULT WITH SCOTT LAIRD, ND — plus FREE REFERRAL to our licensed medical partners if you wish to add prescriptions.
(NOTE: If, after speaking with Scott Laird, you choose to consult with our licensed medical partner, this bundle does 

NOT

include the $77 consult fee required by our medical partner, nor any additional costs of prescriptions they may prescribe to you). 
STEP 1: BOOK YOUR SESSION WITH SCOTT LAIRD, ND

Click the "Select Time" button, select your session time (and time zone), then click the "Confirm" button.

Click "Add to Cart".
After payment processing, you will receive an email from our scheduling software "Sesami" that includes your session date and time and the option to add your appointment to your Google calendar.
Your one-on-one wellness coaching session can be conducted via phone, FaceTime, or Skype. Details and scheduling options will be in your confirmation email.

YOUR BUNDLE INCLUDES

ALL 6 PRODUCTS:
Liposomal Vitamin C
Hallelujah Diet Liposomal Vitamin C is the most absorbable, powerful form of vitamin C available. Astounding immune-boosting effects have been seen when using liposomal vitamin C during acute infections. In fact, liposomal vitamin C is even more effective for getting vitamin C into the cells of the body than intravenous vitamin C.
Vitamin D3 with K2
Prescriptions Plus Vitamin D3-K2 is a synergistic combination that supports bone health, cardiovascular health, and the metabolism of calcium throughout the body. Vitamin D3 increases the absorption of calcium, and vitamin K2 directs the body to properly deposit the calcium. 

Zinc

Zinc supplementation supports aging immune systems, as well as healthy inflammatory and antioxidant responses
. It is also an essential component of superoxide dismutase, one of your body's most powerful natural antioxidants. Combines the highly bioavailable OptiZinc® with zinc citrate to provide a potent 50-milligram dose of zinc in each capsule.
Bio-Quercetin

Quercetin is right up there with vitamin C as one of the most powerful nutrients for immune health, and it benefits your heart, too. But like many phytonutrients, quercetin isn't easy to absorb. 
So we wrapped it up in a phytosome
, a plant-based, phospholipid sphere that makes this formula up to 50 times more available than conventional quercetin.
Ultimate Enzymes [Serrapeptase / Nattokinase]
In addition to digestive support, this formulation's ingredients act as systemic enzymes — catalysts that boost your body's natural processes, including the immune system and detoxification. Also includes systemic enzymes that support the immune system by breaking down waste, "spiky" toxins, and irritants.

OxyMist [Hypochlorous acid 100ppm]
OxyMist is a completely safe, non-toxic, yet extremely effective concentration of the same, natural compound the human immune system creates! (MINI BOTTLE NOT INCLUDED). Hypochlorous acid is a natural immune booster that is produced by your own white blood cells. Safe to use around ears, eyes, mouth, and nose.



* CAUTION: If pregnant or lactating, consult your physician before taking the vitamin D3/K2 supplement in this bundle. Vitamin K may be contraindicated for individuals on dialysis treatment. Consult your physician for more information. Vitamin K supplementation may be contraindicated for those taking Coumadin/ warfarin anticoagulant medication. Consult your physician for more information. Please read the ingredient panel carefully prior to considering this product. Cease taking this product and consult your physician if you have negative reactions upon ingestion. 
The information on this website is for educational purposes only; it is not medical advice. The statements and products referred to throughout this site have not been evaluated by the FDA. They are not intended to diagnose, treat, cure or prevent any disease or condition. If you have a health condition or concern, consult a physician or your alternative health care provider. Always consult a medical doctor before modifying your diet, using any new product, drug, supplement, or doing new exercises.
PLEASE NOTE: Scott Laird has earned designation as a naturopath but is NOT a licensed medical practitioner. By purchasing this health education session you understand that the information provided is NOT medical advice. It is not intended to diagnose, treat, prevent, or cure any disease or condition; it is for educational purposes only. Should you choose to implement this information, please do so only with the assistance of a licensed medical professional. Neither Scott Laird nor Laird Wellness, LLC assume any responsibility for any adverse effects or consequences that may result.